Top 10 outdoor team building activities in Malaga
When it comes to creating unforgettable outdoor team building activities in Malaga, no one does it better than us.
Best outdoor team building activities in Malaga
We have gathered the top 10 outdoor team building activities in Malaga, with all the adrenaline and memorable you look for, from Castaway to the Italian Job.
We can provide you with the best activities for outdoors team building Malaga, where we are experienced and work with the best providers. Our activities have been designed with your business and your employees in mind, to ensure the best experience in Malaga ever.
As an outdoor team building agency in Malaga, we are happy to assist, regardless of the team size and your needs. Everyone will feel welcome and part of the team, thanks to the feel-good atmosphere that is created, directly reflecting in the workplace. Here is our top 10 outdoor team building Malaga activities.
Need some assistance arranging your Malaga outdoors team building? Contact us now and see how we can help you plan the best outdoor team building option.

Castaway
Castaway is an engaging, informative, outdoor experience develop to get the whole team out of the place of work and comfort zone to learn and experience survival skills in a warm, friendly and fun setting designed to motivate and fascinate.
Groups will contend in survival challenges, wining precious items that will help them survive. The option is entirely tailored, depending on your firm targets and guests' stamina! This great outdoor team building option in Malaga will leave a long-lasting memory on the group!
Diamont heist
Diamond Heist is a singular and daring outdoor team building choice in Malaga, where you and your group will have to demonstrate you got what it takes to carry out the perfect robbery.
This team building Malaga experience is perfect to put teams outside their comfort zone, as they design and carry out their crime. Decision-making skills, as well as communication aptitudes, are key to succeed in the robbery of the millennium!
GPS treasure hunt
GPS Treasure Hunt is the most-requested outdoors team building Malaga. Thanks to our iPads and their GPS function, the groups will get to explore Malaga while they enjoy a treasure hunt around the town centre.
All group members will have to play jointly as they follow leads, solve mysteries and enigmas to move from one challenging task to another. They will get pop-up alerts to guide them and assist them through their hunt in Malaga. Who will be the first to complete it?
It's a knockout
It's a Knockout is the most lively, enjoyable and stress-alleviating outdoor team building Malaga. An excellent array of inflatable games and choices, such as the Human Table Football, Inflatable Obstacle Course or the Giant Sumo, to name but a few.
It is a Knockout that will bring everyone together, regardless of their job position, as they will have to contend against each other in all experiences. This outdoors team building Malaga guarantees the maximum fun for everyone, where laughs and a feel-good tone will be a constant.
Segway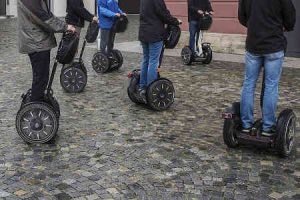 Segway lets you customise your team building activity like no other. You could select from on-road Segways, off-road Segways, explore the city of Malaga leisurely and at your own pace or take part in an obstacle course. Let us know what your requisites are, and we will create a custom-made journey for you.
Segways are suitable to all publics, are easy to ride and do not require any physical work. After a short introduction, everyone will feel confident to start their adventure!
Corporate driving day
It does not matter if you prefer to drive a fancy car, a quad or a 4×4. On our Corporate Driving Day, you choose the car you would like to pilot, and we will deliver! If you select a lighter option, karting is likewise enjoyable and exciting and is suitable for all.
This outdoor team building in Malaga is great for increasing confidence, generating a strong bond between staff and is also a great stress-reliever for the whole group.
Escape to Eden
Escape to Eden is a clever and motivating outdoor team building Malaga, where groups will be challenged to assemble a sustainable community. By completing a number of challenges – all with an educational intention, they will soon realise all their actions have an influence on those around them. Every action incurs damage to the environment, but they will want to come across the most environmentally friendly way to carry out all duties.
This experience is ideal for companies committed to CSR and the environment, or that would like to help their staff find an ecological way in their daily lives
Italian job
The Italian Job is the coolest treasure hunt you could ever envisage! This is an outstanding outdoor team building event in Malaga, where you will have to front different challenges, equipped with an iPad and moving around in a fancy Mini Cooper.
The technology will let you see where the other teams are, with a scoreboard with live results as the groups unlock challenges along the way. This outstanding team building in Malaga will create long-lasting bonds between staff and managers alike.
Sailing
Sailing is, effectively, a team choice, where everyone has to work as one to succeed. It is an ideal outdoor team building experience in Malaga, where the group will be able to sail through the calm Mediterranean waters.
Sailing is also a very adventurous and interactive option, that requires teamwork and coordination. We can customise your sailing day and organise a race between boats or, if you prefer, just sail comfortably as you eat canapés and sip champagne.
Spy hunt
Turn into a spy for a day in this outdoor Malaga team building! Spy Hunt is a race against time where teams will have to recover a burgled confidential document file before the criminals destroy the country!
Equipped with maps and secret service devices, you will have to complete tasks and challenges as you explore Malaga and contest with the other spy teams to find out who is the best spy ever! Who will safeguard the town from the criminals?
Why outdoor team building activities in Malaga?
Weather in Malaga is pleasing all year round so you can enjoy all of our team building choices outdoors (but we still offer you indoor team building in Malaga!), so we encourage you to experience our Malaga outdoor team building options.
Do you need outdoor team building suggestions to rise the communication between your staff members or group members? Would you like to improve the creativity of your staff members but do not know how? Look no further!
In DMC in Malaga, we can assist you to fulfil your targets and purposes with a great catalogue of outdoor team building activities, such as Escape to Eden or Diamond Heist, where creativity is crucial to win.
If you are searching for the adrenaline sort of outdoor team building events, Corporate Driving Day and It's a Knockout are your go-to choices! You will have a wow effect and a fantastic atmosphere will be instantly developed.
All our corporate events can be completely personalised, based on the size of the group, the level of physical fitness they have, how much time can you spare and, of course, your budget. We can assure you that our Malaga outdoors team building will exceed your objectives, and everyone will leave feeling brand-new and motivated for weeks to come. Do not hesitate to contact us for more details or check our team building in Malaga for more ideas.